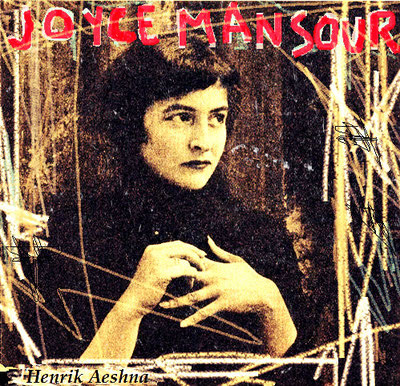 Masturbatory Writing: Here are some of my translations of Joyce Mansour's early poemshots... an attempt to merge the menstrual juice of my Feversauce Joyce, as I often call her, with my own moanings & secretions so as to provoke an orgastic meltdown irradiating vapors nights torrents sweats floods irruptions dreams... 
- Henrik Aeshna, originally published by Tsunami bOOKS, 2011 Issue, July 2011
may my breasts provoke you
I want your rage
I want to see your eyes thickening
Your cheeks hollowing and bleaching
I want your spasms.
May you burst between my thighs
My desires die on the fertile soil
Of your shameless body
Que mes seins te provoquent
Je veux ta rage.
Je veux voir tes yeux s'épaissir
Tes joues blanchir en se creusant.
Je veux tes frissons.
Que tu éclates entre mes cuisses
Que mes désirs soient exaucés sur le sol fertile
De ton corps sans pudeur.

(CRIS, 1953)
*
I've stolen the yellow bird
living in the Devil's sex
It will teach me how to seduce
Men, deer, double-winged angels
It will tear away my thirst my clothes my illusions
It will sleep
But my sleep runs across rooftops
Murmuring, gesturing, violently making love
to cats
J'ai volé l'oiseau jaune
Qui vit dans le sexe du diable
Il m'apprendra comment séduire
Les hommes, les cerfs, les anges aux ailes doubles,
Il ôtera ma soif, mes vêtements, mes illusions,
Il dormira,
Mais moi, mon sommeil court sur les toits
Murmurant, gesticulant, faisant l'amour violemment,
Avec des chats.
*
Invite me to spend the night in your mouth
Tell me about the youth of rivers
Press my tongue against your glass eye
Give me your leg as wet-nurse
Then let's sleep, brother of my brother,
For our kisses die faster than the night.  
 Invitez-moi à passer la nuit dans votre bouche
Racontez-moi la jeunesse des rivières
Pressez ma langue contre votre œil de verre
Donnez-moi votre jambe comme nourrice
Et puis dormons frère de mon frère
Car nos baisers meurent plus vite que la nuit.

(Déchirures, 1955)
*
Let me love you.
I love the taste of your thick blood
I keep it for a long time in my toothless mouth.
Its ardour burns my throat.
I love your sweat.
I love to caress your armpits
Dripping with ecstasy.
Let me love you
Let me lick your closed eyes
Let me pierce them with my sharp tongue
And fill their hollow with my triumphing saliva
Let me blind you.
 Laisse-moi t'aimer.
J'aime le goût de ton sang épais
Je le garde longtemps dans ma bouche sans dents.
Son ardeur me brûle la gorge.
J'aime ta sueur.
J'aime caresser tes aisselles
Ruisselantes de joie.
Laisse-moi t'aimer
Laisse-moi sécher tes yeux fermés
Laisse-moi les percer avec ma langue pointue
Et remplir leur creux de ma salive triomphante.
Laisse-moi t'aveugler.

(Cris, 1953)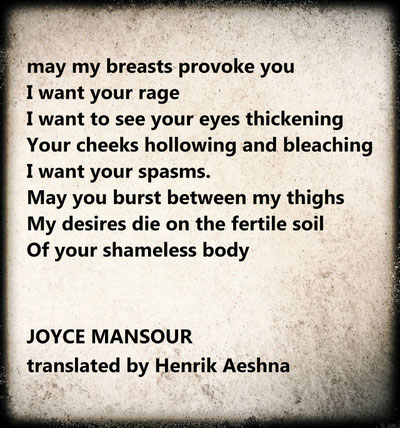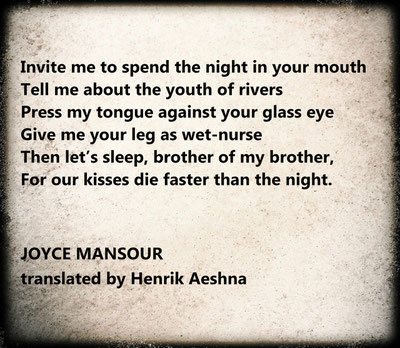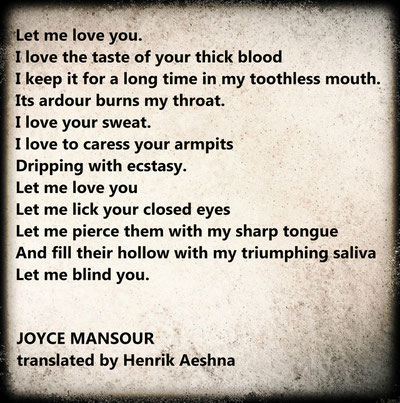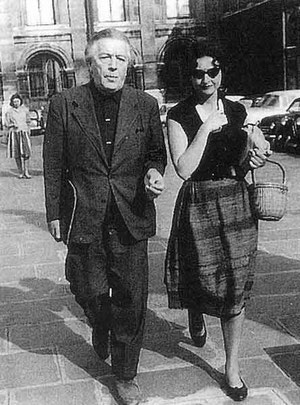 ABOUT THE TRANSLATOR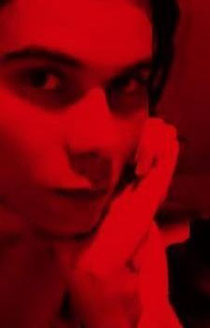 Henrik Aeshna lives amongst flowers, cats & visions in a rundown hotel in the heart of Montmartre, Khajuraho-Paris. Degenerate artist, explorer of intensities & translator, he's the creator of SchizoPoP Manifesto, a mix of shamanoise poetry, intravenous visual deliriums & sound/body painting. His poems & visual interventions have recently been published in Paris, London & US. His upcoming poetry book is titled The Absinthe Diaries, & his first official art exhibition took place in Paris in December 2012. He sees poetry as a Tjurunga key capable of reconnecting his blood, as well as his deepest being, to a vaster realm of experiences, both exuberant and dangerous. Dance, Ecstasy & Dreams.
- Website : www.henrikaeshna.com