The Elusive Waterfall
In 100-degree heat
We wandered far past Main Street,  Downieville
In search of the waterfall.
Beyond the cemetery of sweet peas
Climbing the steep rock ravines in July
While the skinny-legged  bikers rolled by.
All of us destined for
The double-creamed cones
Served by red-headed nubiles.
Later we slept on the redwood deck
Outside of the unbearable warmth
Of the wood cabin.
Clinging to each other at 11 p.m.
No longer afraid of cinnamon bears
Or striped skunks.
Like the feral cat
We rolled on the road of the moment
As we fucked goodbye
In all the languages
As we locked tongues
Under the silent cedars
And carved our names
Into the nite--
I/We wuz here.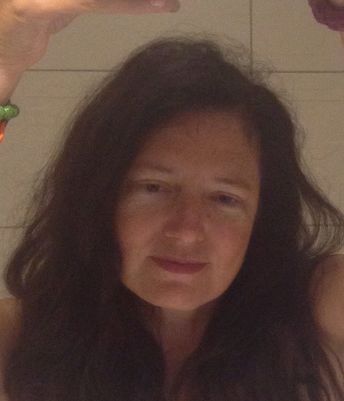 Rebecca Morrison or Eskimo Pie is a poet living in the French countryside where she is refurbishing an art gallery. She has published 6 books of poetry and is currently working on a novel.  She has edited eskimopie.net since 2002 publishing poetry, art and fiction. She has a new website in France at illuminationsgalerie.wordpress.com (after Rimbaud).