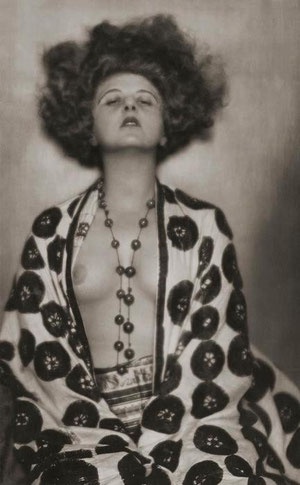 Anita Berber
  (June 10, 1899 - November 10, 1928) was a German dancer, actress, writer, and prostitute who was the subject of an Otto Dix painting.
  She lived during the Weimar period.
Born to divorced bohemian parents (a cabaret artist and a violinist), she was raised mainly by her grandmother in Dresden. By the time she was 16, she had moved to Berlin and made her debut as a cabaret dancer. By
...
1918 she was working in film, and she began dancing nude in 1919.

She was scandalous, androgynous and infamous, quickly making a name for herself on the Berlin scene. She wore heavy dancer's make-up, which on the black and white photos and films of the time came across as jet black lipstick painted across the heart-shaped part of her skinny lips, and charcoaled eyes.

Her hair was cut fashionably into a short bob and was frequently bright red, as in 1925 when the German painter Otto Dix painted a portrait of her, titled "The Dancer Anita Berber". Her dancer friend and sometime lover Sebastian Droste, who performed in the film Algol (1920), was skinny and had black hair with gelled up curls much like sideburns. Neither of them wore much more than lowslung loincloths and Anita occasionally a corsage worn well below her small breasts.

Berber's cocaine addiction and bisexuality were matters of public chatter. She was allegedly the sexual slave of a woman and the woman's 15-year-old daughter. She could often be seen in Berlin's hotel lobbies, nightclubs and casinos, naked apart from an elegant sable wrap, with a pet monkey and a silver brooch packed with cocaine. Besides being a cocaine addict, she was an alcoholic, but at the age of 29, gave up both suddenly and completely. According to Mel Gordon in The Seven Addictions and Five Professions of Anita Berber, she was diagnosed with galloping tuberculosis while performing abroad. She died on November 10, 1928 in a Kreuzberg hospital and was buried at St. Thomas cemetery in Neukölln.
KOKAIN (Cocaine) - Sebastian Droste, 1922, interpreted by him and Anita Berber
Walls
  Table
  Shadows and cats
...

  Green eyes
  Many eyes
  Millionfold eyes
  The woman
  Nervous scattered cravings
  Inflamed life
  Swollen lamps
  Dancing shadow
  Little shadow
  Great shadow
  THE SHADOW
  Oh—the leap over the shadow
  It tortures [me] this shadow
  It martyrs [me] this shadow
  It devours me this shadow
  What desires this shadow
  Cocain
  Outcry
  Animals
  Blood

  Alcohol
  Pains

Many pains
  And the eyes
  The animals
  The mice
  The light
  These shadows
  These terrible great black shadows