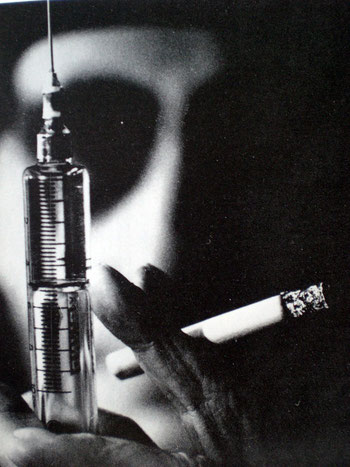 CONRAD ROOKS' CHAPPAQUA
Chappaqua, as our drug-addled protagonist Russell Harwick (Conrad Rooks) explains, is a small town in New York where he grew up in an innocent environment heavily populated with Indians. What this has to do with recovering from rampant alcoholism and drug abuse is anybody's guess, but it must mean something to Rooks, the son of the Avon Corporation's CEO and writing buddy of numerous famous members of the beat generation.
Apparently Rooks got a chunk of cash from dad and decided to make a film about his own drug treatments in Switzerland (relocated to France in the film). In the film, he relates his experiences and hallucinations to a doctor (Children of Paradise's Jean-Louis Barrault) as he undergoes a mysterious "sleep treatment." As far as autobiographical self-confessions go, this is about as sincere as John Wayne Bobbitt: Uncut, but '60s buffs will get a big kick out of seeing William S. Burroughs appear as Opium Jones, the head of the institute, and a quick cameo by Allen Ginsberg. While Rooks may not be a coherent filmmaker, at least he had the sense to hire the best talent he could find. Talented indie cinematographer Robert Frank (who also lensed the notorious Rolling Stones documentary Co*ksucker Blues) does some beautiful work here; the film alternates at random between color and black and white footage a la A Man and a Woman (most but not all of the color footage relates to Rooks' hallucinations), but Frank really shines during the haunting black and white sequences. Rooks' thespian skills really defy description, though it's unlikely someone would deliberately give such a bad performance. In any case, he does deliver some occasionally startling moments, such as his arrival at the clinic when he drops to the floor in front of a desk and suddenly finds the surface turned to ice -- and he hallucinates a man suddenly doing figure eights around him. Of course, his first appearance is memorable, too, at a New York acid party where the Fugs stomp on sugar cubes spelling out the letters "LSD" and an eye-rolling Rooks sprawls on the floor and licks up the residue. Rooks also provides some terrific mid-'60s footage of 42nd Street, and watching all of the trash theater marquees floating by provides a lot of fun ("Hey, it's Olga's White Slaves!"). Unfortunately, the good moments are seriously hampered by Rooks' bratty, self-indulgent ranting and some awfully stupid hallucinations (in one he's a vampire who attacks a woman at a party and winds up sprawling her on a table and covering her with fruit!). Clarity is definitely not the order of the day, but Rooks does manage to pull off a genuinely haunting final scene that almost makes the whole trip worthwhile (and probably explains how this won the Silver Lion at Cannes).
Chappaqua may be a series of magnificent, visionary images encasing a core of pure swill, but Fox Lorber's DVD is one of their best to date. The film was apparently shot on 16mm, but it looks exceptionally clear for its vintage with no noticeable digital artifacts. The percussive Ravi Shankar score (released on two separate albums with some spoken word performances by Burroughs) sounds fine, though a stereo mix would have been very effective (okay, wishful thinking, but...). The film's running time has been a subject of some dispute; apparently the press materials at Cannes promoted this as 92 minutes, though theatrical prints run 82 (as does the DVD). Other sources report cuts as short as 75 minutes which deleted the tame female nudity and other bits of potentially offensive material. Since Rooks himself supervised the transfer and owns the film, the current running time seems the most likely. The DVD also includes the video release promo clip (passed off as a trailer for some reason). Incidentally, Rooks' obvious obsession with other cultures probably inspired his second (and only other) film, a 1973 adaptation of Herman Hesse's Siddhartha that's long overdue for a video release.
The Cast

CHAPPAQUA, produced, directed and written by Conrad Rooks. Photography, Robert Frank; art director, Regis Pagniez; sound, I. M. Sommerville and Peter Pilafian. Original music composed and directed by Ravi Shankar. Film editor, Kenout Peltier. Released by Regional Film Distributors, Inc. at the Sutton Theater, 57th Street at Third Avenue.
Dr. Benoit . . . . . Jean-Louis Barrault
Russel Hardwick . . . . . Conrad Rooks
Opium Jones . . . . . William S. Burroughs
Messiah . . . . . Allen Ginsberg
Sun God . . . . . Ravi Shankar
Water Woman . . . . . Paula Pritchett
Peyote Eater . . . . . Ornette Coleman
Guru . . . . . Samai Satchidananda
The Prophet . . . . . Moondog
Sacrificed One . . . . . Jill Lator
The Connection . . . . . John Esam
ORNETTE COLEMAN - CHAPPAQUA SUITE
Part I  21:25
Part II  19:00
Part III  17:40           
Part IV  21:58

Line-Up:
Ornette Coleman (as, tp)
Pharoah Sanders (ts)
David Izenzon (b)
Charles Moffett (d)
Joseph Tekula (dir) unidentified large studio band.

NYC, June 15, 16 & 17, 1965
Recorded in 1965, this music was commissioned for the soundtrack of Conrad Rooks' cult film of same name. Ultimately, a Ravi Shankar score was opted for instead of this one. I've never seen "Chappaqua," and I've not heard Shankar's score, but hearing this album I can't believe anyone turned this stuff down! The score is fantastic, as you would expect from Coleman. The music is evocative and seems as though it would make a superb accompaniment to film. Fortunately, it also works fantastically as an album all by itself, so all was not wasted. The CD liner notes claim that director Rooks hesitated to use the music because it was so beautiful in and of itself, and he feared that the score's many merits might conflict with or even overshadow the actual film. I can accept that, but the liner notes go on to say that Rooks "kept this recording to offer it in an album of two LPs to all those fascinated by the musical world initiated by Ornette Coleman." You can believe that, or not, but the truth is that this recording is only available as a fairly cheesy and hard-to-find 2-disc (though its just over 79 minutes in total) expensive French import. And as far as I know this is the only way its ever been available, so those lofty idealistic claims don't go so far with me.
The permutation of the Ornette Coleman trio in action here includes Charles Moffett and David Izenson (the same line-up as on the remarkable "Golden Circle" recordings and in the landmark '62 Town Hall concert). Pharoah Sanders (!) makes a cameo for an added bonus. And on top of that, the whole performance is accompanied by a studio orchestra (ten musicians? eleven? there are conflicting reports on this matter). Pretty much, the trio do their thing, and the orchestral players fill in, adding color to the music and giving the whole affair a thicker and healthier sound. But sometimes, many times, things really heat up and there's some fierce back-and-forth between the trio and the orchestra. These moments give this score a real intensity that helps to make it, I feel, a very important Coleman recording. Coleman had by this point had some limited experience working with orchestral performers (for example on the Town Hall concert), and he would pursue further interest in the area with such recordings as "Skies of America." If you have any interest in jazz music composed for film soundtracks, check out Miles Davis's score for Louis Malle's "Elevator to the Gallows," Shafi Hadi & Charlie Mingus's score for John Cassavetes' "Shadows" (some of which is on "Mingus Ah Um"), and the score for Michael Snow's "New York Eye & Ear Control," which features the likes of Albert Ayler, Don Cherry, and Roswell Rudd.
Those are all pretty great. Oh, and then there's always the score to "Anatomy of Murder," obviously. In addition to "Chappaqua" and the later "Naked Lunch" soundtrack, Coleman did a soundtrack for another film, "Who's Crazy," around the same time with the same Trio line-up. I've heard a good chunk of it, and its really really good, and covers some of the same material performed in Stockholm for the Golden Circle concerts. But like so many other crucial Coleman recordings ("Crisis," the Great London Concert, the remaining material from the '62 Town Hall Concert, etc.) it is not now in print, and probably won't be any time in the near future (or maybe ever). Unlike the rest of the Town Hall material though, "Who's Crazy" was issued on vinyl as an import (italian?) many years ago (good luck finding it!). There's also a short documentary which films them laying down the "Who's Crazy" tracks, which I highly recommend tracking down. ---C. Burkhalter