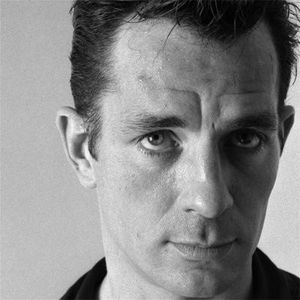 BOWERY BLUES
The story of man
Makes me sick
Inside, outside,
I don't know why
Something so conditional
And all talk
Should hurt me so.

I am hurt
I am scared
I want to live
I want to die
I don't know
Where to turn
In the Void
And when
To cut
Out

For no Church told me
No Guru holds me
No advice
Just stone
Of New York
And on the cafeteria
We hear
The saxophone
O dead Ruby
Died of Shot
In Thirty Two,
Sounding like old times
And de bombed
Empty decapitated
Murder by the clock.

And I see Shadows
Dancing into Doom
In love, holding
TIght the lovely asses
Of the little girls
In love with sex
Showing themselves
In white undergarments
At elevated windows
Hoping for the Worst.

I can't take it
Anymore
If I can't hold
My little behind
To me in my room

Then it's goodbye
Sangsara
For me
Besides
Girls aren't as good
As they look
And Samadhi
Is better
Than you think
When it starts in
Hitting your head
In with Buzz
Of glittergold
Heaven's Angels
Wailing

Saying

We've been waiting for you
Since Morning, Jack
Why were you so long
Dallying in the sooty room?
This transcendental Brilliance
Is the better part
(of Nothingness
I sing)

Okay.
Quit.
Mad.
Stop.
Lowell Blues: The Words of Jack Kerouac
Lowell Blues remembers the place Jack Kerouac could not forget. By fusing visual history, language and jazz into a 30-minute film poem, Lowell Blues illuminates Kerouac's childhood holy land. Excerpts from Kerouac's novel, Dr. Sax, are read by: Gregory Corso, Johnny Depp, Carolyn Cassady, David Amram, Robert Creeley, and Joyce Johnson. Ferrini paints an illuminated landscape rich in mystery and possibility. Lowell Blues is a canvas in motion. A canvas made even more vivid by a haunting soundtrack by alto saxophonist Lee Konitz, drummer Jim Doherty and Boston's own "godfather of punk" Willie Alexander. The film interprets how place activates the writer's imagination, and how the writer's art reshapes his city with reverence and respect. Between the frames we recollect the life of a young writer exploring his origins - education, the Catholic church, birth and death. Kerouac's text speaks to the 1930s in which he grew up. By using both archival and contemporary footage, Lowell Blues melds modern experiences together with Kerouac's childhood to create a timeless sense of place. Lowell Blues, like Kerouac's writing, swirls word and image, music and movement into ethereal images of America's abundant, ever morphing, character. Lowell Blues remembers the city on the river where "memory and dream are intermixed in this mad universe.
Poems From the Unpublished "Book of Blues" - Blues and Haikus
Blues and Haikus (Hanover LP #5006) is Jack Kerouac's second album and was released in 1959. On this album Kerouac's poetry readings are accompanied by jazz saxophonists Al Cohn and Zoot Sims.
Track listing
"American Haikus" – 10:01 (Jack Kerouac)
"Hard Hearted Old Farmer" – 2:13 (Jack Kerouac)
"The Last Hotel/Some of the Dharma" – 3:49 (Jack Kerouac)
"Poems from the Unpublished Book of Blues" – 14:08 (Jack Kerouac)
"Old Western Movies" - 6:42 (Jack Kerouac)