CABARET TOXIQUE
POETRY NIGHTS, EXHIBITIONS & HAPPENINGS IN PARIS
"Good to know there is life left in a world of brainless robots where systemic systems of death dance the last tango with Marlon Brando."
-  Charles Plymell on Cabaret Toxique
° BEAT HOTEL REVISITED - Happening à Paris avec Henrik AESHNA & Steve DALACHINSKY
° CABARET TOXIQUE à Paris & à Lyon pour célébrer le centenaire de WILLIAM BURROUGHS (CABARET TOXIQUE celebrating the 100 years of William Burroughs' birth) - JAN/FEV 2014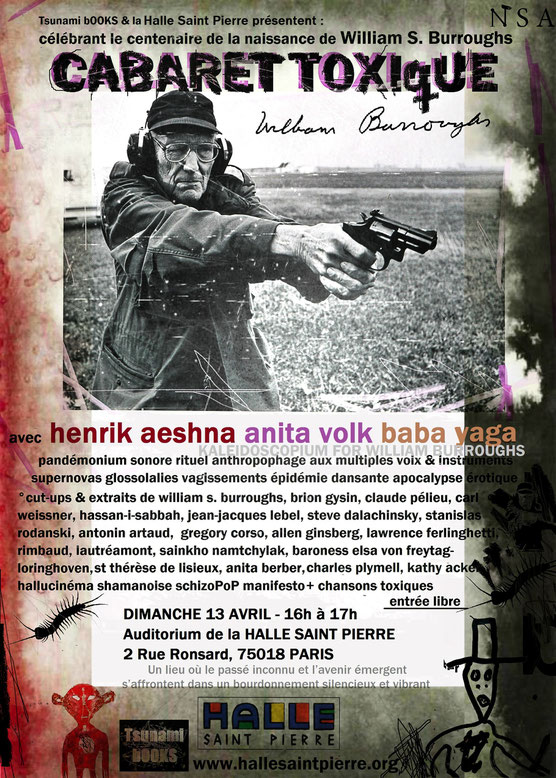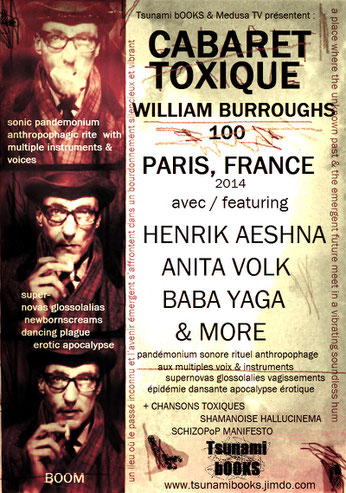 ________________________________________________
________________________________________________
CABARET TOXIQUE is back, with our new Tsunami hqs in Pigalle & Montmartre! - Poets, expats, stray cats, painters, performers, musicians & dancers in/around Paris: Welcome to the eye of the hurricane!
We host occasional events, flash assaults, exhibitions, expeditions and Parkours Poéthyliques, so stay tuned!
UPCOMING DATES: JULY 12 - 6pm HERE  
also PIGALLE UNDERGROUND (Al Capone's Cell)
Also, JOIN our new FACEBOOK PAGE!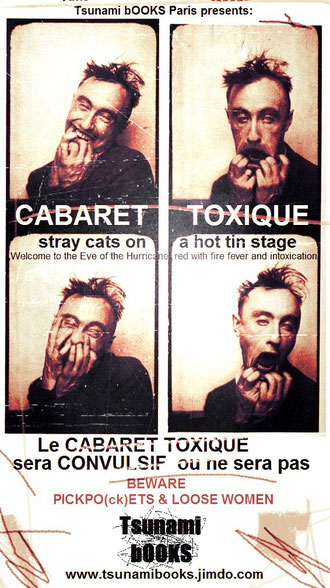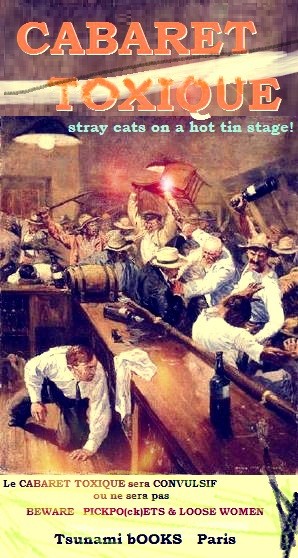 Le CABARET TOXIQUE sera CONVULSIF ou ne sera pas
- in 2012 Paris will be hit by storm!
November 27, December 11 & 20, 5pm to Midnight
THEATROOM
4, Cité du Midi / Pigalle, 75018 PARIS
M° Pigalle / Blanche / Abbesses
Festival International
'Les Entrailles des Villes - Chronique d'une Indigestion'
Cabaret Toxique, Tsunami bOOKS PARIS - poetry nights and spoken word in Paris

*** exhibition SchizoPoP Manifesto in Pigalle in December 2012: http://www.henrikaeshna.com/#!__exhibition-henrik-aeshna  - Curated by Theatroom Cité du Midi Paris
Events 2011:
- Wednesday November 23th, 8pm, in the triangular forest after dusk
ou December 21th, 8pm
- Mercredi 23 Novembre, 20h, dans la forêt triangulaire, après le crépuscule
ou 21 Decembre, 20h
Cabaret Culture Rapide Bar
103, rue Julien Lacroix - 75020 - Paris
Métro : Belleville ou Pyrénées FREE / ENTREE LIBRE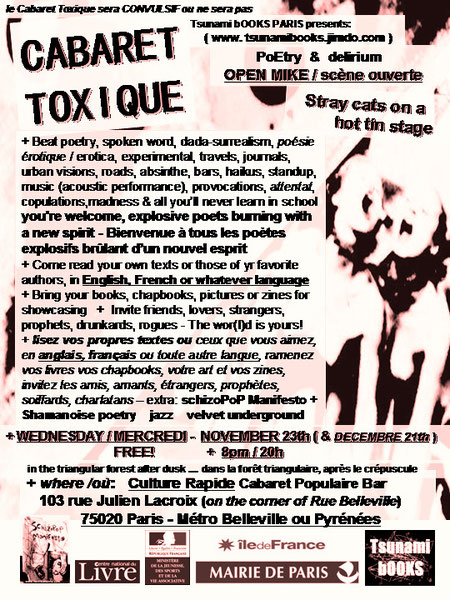 Tsunami bOOKS Paris presents:
 
PoEtry & delirium / OPEN MIKE - scène ouverte
Paris sera occupé en 2012 !
où: cabaret populaire Culture Rapide Bar... in the triangular forest after dusk ....( dans la forêt triangulaire, après le crépuscule)
- ( ENTREE LIBRE ) - FREE!

STRAY CATS ON A HOT TIN STAGE!
+ Beat poetry, spoken word, dada-surrealism, poésie érotique / erotica, experimental, travels, journals, urban visions, roads, absinthe, bars, haikus, standup,
music (acoustic performance), provocations, attentat, copulations, madness & all you'll never learn in school

you're welcome, explosive poets burning with a new spirit
- Bienvenue à tous les poètes explosifs brûlant d'un nouvel esprit

+ Come read your own texts or those of yr favorite authors, in English, French or whatever language

+ Bring your books, chapbooks, pictures or zines for showcasing
+ Invite friends, lovers, strangers, prophets, drunkards, rogues
- The wor(l)d is yours!

+ lisez vos propres textes ou ceux que vous aimez, en anglais, français ou toute autre langue,
+ ramenez vos livres vos chapbooks, votre art et vos zines,
+ invitez les amis, amants, étrangers, prophètes, soiffards, charlatans

– extra: schizoPoP Manifesto + Shamanoise poetry jazz velvet underground