° CABARET TOXIQUE - dans le cadre du Festival International THEATROOM - Les Entrailles des Villes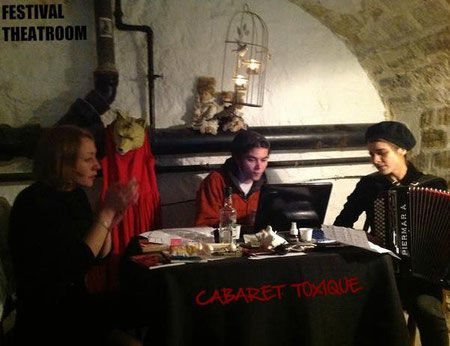 International Festival THEATROOM
CABARET TOXIQUE 27.11.12 –  
BEWARE PICKPO(ck)ETS & LOOSE WOMEN
Bacchus is in Pigalle!
Stray Cats on a Hot Tin Stage (or in Al Capone's cell)!
La Coquille: Anita Volk, Sandra Wild & Henrik Aeshna
+ Chansons Toxiques from the 20's & 30's + Ferré, Gainsbourg & others
+ original Shamanoise poems & songs by Henrik Aeshna, Anita Volk & Sandra Wild
+ original cuts by Claude Le Petit, the obscure poète libertin burnt at the stake in Paris in 1663 at the age of 23 due to his unforgivably lewd  poetic libel Le Bordel des Muses, a gorgeous spurt in the face of everything and everyone; Mireille Havet, the outlaw madonna of the Mad Years who'd outrage Paris in silence, from a promising prodigal child to a terminally junky prostitute, claustrophobic and lost, androgynous anti-cinderella dead young, and who spent 80 years to have her journals dug up from total oblivion ; and Ernest Gengenbach, the perverted satan-priest of Surrealism, a terrific mix of schizophrenia and jazz. All of these damned authors are having their words and lyrical fits morphed into music and noise for the first time ever.
+ Mash-ups mixing William Burroughs, Joyce Mansour, Bob Kaufman, Rimbaud, Henry Miller, Jean-Jacques Lebel, Abu Nuwas, Charles Bukowski, Antonin Artaud, Francis Picabia, Arthur Cravan, Kerouac, Experimental Jazz Sound Poetry.)
+ Live mash-up assault : Henrik Aeshna ("Reality Show"), Milford Graves/John Zorn, Sainkho ("Vision"), Irene Papas/Vangelis ("Infinity"), Susumu Yokota ("Secret Garden"), Jack Smith/Tony Conrad ("Earthquake Orgy"), Broadcast & the Focus Group ("A Medium's High", off 'Investigate Witch Cults of the Radio Age'), Ecstasy of the Angels (a 1972 film by Koji Wakamatsu)
(check out the result
HERE
)
PIGALLE UNDERGROUND
Imagine a 4-piece cave right in the heart of Pigalle, Paris' Red Light district once haunted by Rimbaud / Verlaine, Francis Carco, Prévert, Vian, Piaf, Toulouse-Lautrec, Van Gogh, the Surrealists and other infamous cats and bohemians. Imagine each of the rooms in this poetic dungeon - looking more like Al Capone's cell at Eastern State Penitentiary, Philadelphia - littered with paintings and sculptures (part of the current exhibition), found objects, old porcelain dolls, surreal cages, candles, incense, experimental/avant-garde films, a Ouija board-like table with a couple of ancient pistols on it, absinthe, wine and Polish vodka, an improvised library with some of our favourite books, and in each of these rooms a caustic scene unfurling, with no barriers separating performers from guests and occasional strangers. Here you can wander around, bring your own books, or pick up one of your like out of our library. You are free to read sing scream break into paranormal glossolalias, dance with burning words on your pregnant tongue; here you can come up with some spontaneous quotation or song parts kicking inside your head and make them explode, juxtapose them with other poems. Here you can bring your saxophone and pistols, your Ney flute, banjo, bongo, berimbau or digital phantasmagoria, and burn the palace of wisdom down, transform Sartre's Disneyland into a risky ring. Here everyone is chronically possessed, and our dictionary's favourite word is
ORGY
("the Cabaret Toxique will be CONVULSIVE or not at all"). A toast to BACCHUS!
December 11 & 20
 

4, Cité du Midi / Pigalle
M° Pigalle / Blanche / Abbesses