COLLAGE TEMPÊTE & FREE JAZZ
ARTSHOW Festival International THEATROOM, PARIS
nov./dec. 2012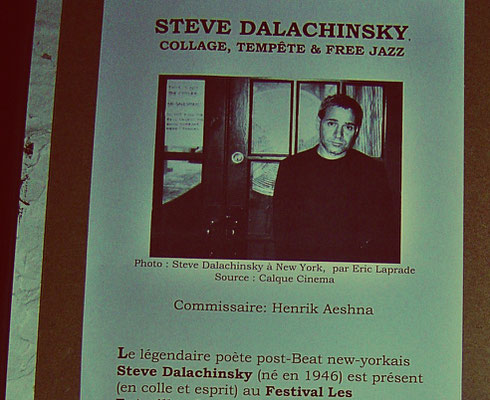 Commissaire: Henrik Aeshna
Le légendaire poète Post-Beat new-yorkais Steve Dalachinsky (né en 1946) est présent (en colle et esprit) au Festival Les Entrailles des Villes - Chronique d'une Indigestion - à travers deux collages inédits aux tons surréels.
Bien connu en France dans les festivals d'art expérimental & avant-jazz, le poète a déjà enregistré et collaboré avec des grands noms de la scène mondiale, de Jim O'Rourke, David Amram et Dave Liebman à John Tchicai, Matthew Shipp, Didier Lasserre, le groupe expérimental français The Snobs et Sonic Youth.
Armé d'un talent instinctif aux multiples facettes, cet enfant terrible du Brooklyn transfigure la réalité à partir d'un dialogue spontané et viscéral avec les mots, les sons et les images, un dialogue duquel émergent le chaos, la beauté, l'absurdité et le désespoir de la vie moderne, excédés jusqu'aux limites de la transe. Cet univers visuel-sonore résonne comme si William Blake, illuminé et tripé à la mescaline, jouait de la trompette parmi les affiches et tapisseries lacérées du Rêve Américain qui tourbillonnent sur la jungle new-yorkaise, inondée lors du passage de la tempête Sandy, annonçant la Naissance de Vénus. 
OPENING SHOW :
December 8, 2012
4p.m. to 10p.m.
CLOSING SHOW :
December 20, 2012
6p.m. to 10p.m.
GALERIE DU THEATROOM
4, CITE' DU MIDI /
PIGALLE
75018 PARIS
M° Pigalle / Blanche / Abbesses
 Official site Festival International THEATROOM
Les Entrailles des Villes -
Chronique d'une Indigestion
(check out full schedule)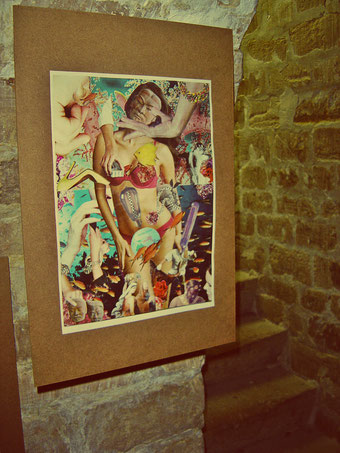 Pièce envoyée par Dalachinsky suivie de 3 collages faits en plein blackout alors que Sandy faisait le bordel sur l'East Coast américaine...
NY, November 4 2012
after hurricane sandy a quick personal synopsis

power back after 5 1/2 days
disabled seating for priorities only
430 am radio goes on
tv on lights on
try to kiss wife
get rejected
(my) power deminishes after 5 minutes
priority disabled hum veeeees
missed all
made 3 collages by flashlight
eating by candle light in a tenement apartment
first thing discovered
after power is back
one quietly struggling little mouse
caught in a glue trap
beneath the fridge
hot water back
but no
HEAT

marathon no marathon

shower shave
bagel hug
opera on the
radio (fidelio)
tragicomedy