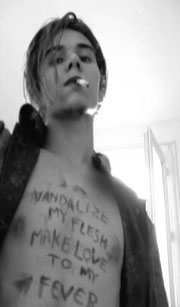 " anti-prophet of SchizoPoP Manifesto "
" Rebel, intense, provocateur; bastard, visionary vandal, anti-anti-hero with a thousand faces. Profane pirate of signs and Poltergeist poet of inspirational carpe diem. All and Nothing. Henrik Aeshna's school notebook poems are radically innovative - a wild stream of words and sensations, an unstructured syntax flowing out of the musical mud and fierce effervescence of Free Jazz, Post-Punk, Avant-Garde & Experimental Cinema ( Stan Brakhage, Jack Smith, Shuji Terayama, Jonas Mekas, etc. ), photography and street art, Beat Poetry, Dada-Surrealism & Situationism, and finding echoes in the travel journals and raging notebooks of outlaw adventurers such as Jack Kerouac and Neal Cassady, Rimbaud, Villon, Li Po & Basho, Artaud, William Burroughs & Arthur Cravan, in the erotic ravings & incandescent clitoris of women writers; détournement of advertising signs, etc. We're not talking about ANOTHER poem or ANOTHER song, but rather a philosophy torn to pieces exhaling/exalting its 'furious vocation for perdition'.  
Aeshna is also the creator of SCHIZOPoP MANIFESTO, a hellish hundun soup where the anti-concept "schizopop" ( or "schizo-pop" and "schizo pop" ) first appeared, still in his teenage collages.
He has carved his way into this chaotic jungle stage called world as an underground musician, experimental nomad and bum, vendangeur, lots of odd jobs, cultural agitator, organizator of happenings, performances, scandals, workshops for children based on a study on Perception & Sensiblity, Butoh dancer, art model, and is currently working on the divulgation of his latest book, MARSEILLE BLUES - an exquisZOphrenic corpse, and not only a deconstruction/re-interpretation of many surrealist and avant-garde concepts, but also the most poignant and brutal literary work France's ever seen.
Member of a heretical sect called UNEMPLOYMENT/PROCRASTINATION and having no fixed address, this multi-talented, let's-get-lost, search-and-destroy visionary has been exploring intensities everywhere.
                                      - Anita Volk 
* official website PLASTIC PROPHETS ( feat. SCHIZOPoP MANIFESTO, MEDUSA TV, SHAMANOISE POETRY & BLOG )
EBSN (European Beat Studies Network)
BIG BRIDGE PRESS, California
LAZY GRAMOPHONE PRESS, London
** EXHIBITION HENRIK AESHNA & SCHIZOPoP MANIFESTO
from December 8 2012 Pigalle, Paris - further info HERE